Pretty Proofreader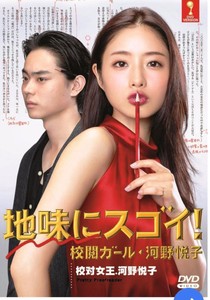 This was the second Japanese drama I'd ever watched, (the first being Switch Girl back in 2014). Since it had been some time since I'd seen a Japanese drama, I wanted to find one that I could enjoy. I scrolled around and eventually came across Pretty Proofreader.
The story revolves around Kouno Etsuko, a woman in her late 20's who had been trying for years to become a fashion editor at her favorite magazine. After failing for 7 years, she lands a job within the company, but as a novel proofreader. She likes to leave the office to confirm certain things in the novels she works on. This leads to her getting into trouble often, but somehow finding a way to turn things around, while maintaining her dream of become a fashion magazine editor.
I was initially drawn to this drama because I really love reading books, and can't say that I've watched a drama dedicated to them. There is a bit of a love story involved, but it is definitely not over played. I also really liked the supporting actors in this drama, many of whom were intertwined in episodes focusing on their character. I wouldn't say that this is a heavy drama, but there were a few moments where my eyes may have gotten a little misty. There is a lot of humor involved, and more so if you understand Japanese, (play on words, as well as an emphasis on the writing systems).
Pretty Proofreader has 10 episodes, with the 11th being an hour and a half long movie. Each episode is about 50 minutes long, and was easy watching for me.
Your Home Is My Business
I enjoyed Pretty Proofreader so much, that I decided to watch another Japanese drama. Once again, I found the synopsis interesting, and decided to watch. Your Home Is My Business is a comedy/drama centered around Machi Sangenya, a 30ish year old real estate agent who boasts that there isn't a house that she can't sell. She is an eccentric woman, who never smiles, and sells 100% of the homes/apartments she shows.
She is brought into a real estate office from another branch, in order to help with the lackluster success rates there. In her own way, she motivates her coworkers to think outside of the box, using many different schemes. When it comes to her coworkers, she doesn't take no for an answer, and gets them moving by yelling, "Go!" As with Pretty Proofreader, this drama has 10 episodes, 50 minutes long, with the 11th episode listed as a movie. My Home Is Your Business is another easy watch, that I enjoyed.
Danger-Less Detectives
This is a short Japanese comedy centered around two young detectives. One wants to quickly move up the ladder to an office headquarters job, where he won't be on the streets chasing criminals. His partner wants out of police work altogether, and is actively looking for other work. Despite slacking off on the job, they end up solving cases, because they are actually good at what they do, they just don't want to be doing it.
I've seen a few Japanese dramas, and was looking for something more lighthearted when I came across this. I was curious to see what a Japanese comedy would be like. The previews were accurate, that this would not be a heavy drama. There are only 8 episodes that are about 25 minutes long, which was fine with me! Each episode presents a new case for the duo, as they find different ways to appear as if they're investigating outside of the office, while doing the exact opposite. As much as they try to avoid it, danger seems to follow them wherever they go. Danger-Less Detectives kept me laughing, and hoping for a season 2!