For those who don't know, wuxia translates as "martial heroes", and is a form of Chinese fictional fantasy literature that eventually also turned into dramas. I have friends who are really into these types of dramas, but it wasn't until this year that I've finally decided to watch, and let me tell you, I am hooked! So far I've watched My Heroic Husband, and Joy of Life. I don't want to spoil any of these shows for you, so I'll just give a brief overview.
My Heroic Husband came out this year, and is about an author who is told by his agent to quit the book he's been working on for years. He is told to in another direction, that will be more popular with current trends. The author agrees to these new terms, under the condition that he can bring the main character Ning Yi, into this new novel. The scene then changes, and there is a scene where Ning Yi, a famous businessman, is falsely accused of something, and is beaten to death. From there, the audience is transported back to ancient China. The main character wakes up in a new body, and soon finds out that he is engaged to be married to a rich family in the cloth making business as a matrilocal husband,(in some cultures, a matrilocal husband is one who marries, and lives with or near his wife's family/people.)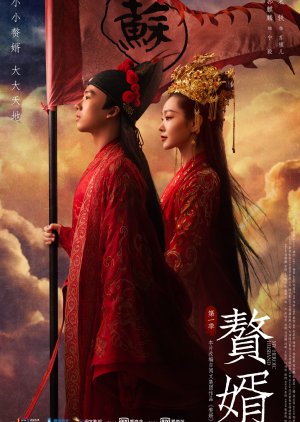 The rest of the drama is centered around Ning Yi's new life, how he becomes successful, and gets involved with affairs related to the country. This drama has 36 episodes, and each episode is 45 minutes long. Factor in a minute or two for the intro, and outro songs, and the actual drama time is closer to 40 minutes.
Many of the characters that are in My Heroic Husband, are also in Joy of Life. This drama aired in late 2019, and became a hit! Like My Heroic Husband, Joy of Life begins in the modern world, where a college student is planning to enter his story into a science fiction writing contest. As with My Heroic Husband, after the opening scene, we are taking to what appears to be ancient China.
This drama follows the life of Fan Xian, the illegitimate son of a prominent family, who is raised in a small town with his grandmother. He is taught medicine, and martial arts, by some pretty interesting "teachers". One day he is summoned to the capital city, where life gets much more interesting for him. We are taken through lots of twists and turns with this drama, as Fan Xian is faced with dangers, and hardships. There are 46 episodes, and 45 minutes for each episode, (give or take a few for the intro and outro).
The intricate storylines, and martial arts is what I've enjoyed so far from wuxia dramas. These were truly entertaining, and pieced together sometimes complex lines that left me thinking. Both of these dramas are scheduled for a second season, (three for Joy of Life), so it will be interesting to see how the characters develop, issues resolved, and the plots unfold.
Feel free to share any wuxia dramas you've enjoyed in the comments!